After nylon and fabric paint for the Cartman banner proved way more expensive than we could really justify, part of the off-season was spent testing different fabric and paint combinations to see what would work best. Would a poly-based poplin work? Should we use cotton canvas, which, while inexpensive and easy to paint, is heavy and holds water like a sponge? Which paints should we use–dedicated fabric paints or just regular latex housepaint? For paint, we needed something available in a variety of colors and that would withstand a fair amount of abuse from being rained on, stuffed in a bag, stepped on, etc. For fabric, we needed something that would be inexpensive and could hold paint in the same tough conditions.
Using three fabric swatches–two polyester blends and one cotton canvas–and four types of paint (two types of fabric paint, craft acrylic mixed with fabric paint medium, and latex housepaint), I conducted a test. I used white and peach for the paint samples, partly because those were what I had on hand and partly because lighter colors are harder to use against a dark background. The fabric samples were all dark blue, which, as a main color for both the Revolution and the US national team, would be first choice for several banner designs. Each swatch got two coats of each type of paint, then ironed to set the colors as per the fabric paint instructions, and then washed and dried in a regular high heat cycle with my usual laundry.
The first poly sample: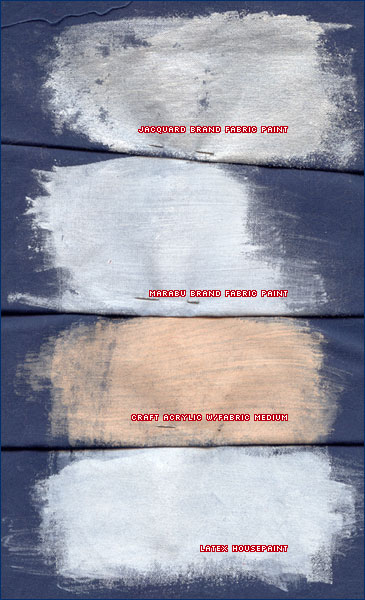 The second poly sample: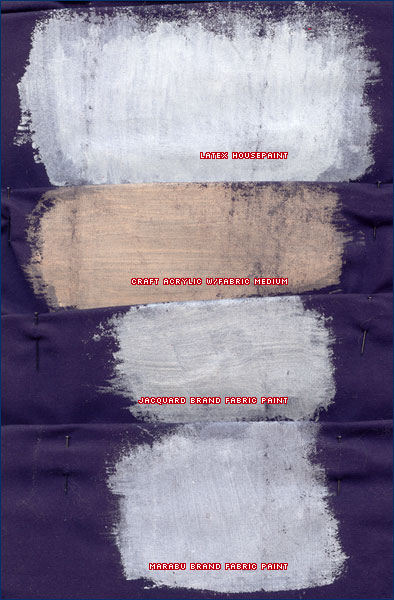 The first cotton sample: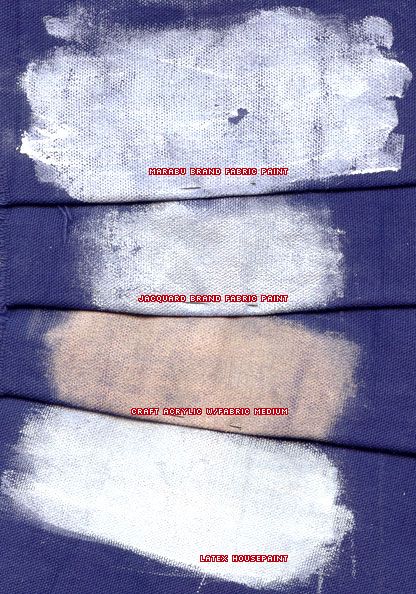 Ultimately, all of the paint and fabric combinations held up relatively well, with some of the fabric paints flaking off after a washing. With this in mind, we decided the best combination was latex housepaint on cotton canvas. For both the paint and the fabric, it came down to what would offer the widest variety of options for the least amount of money. Had we chosen fabric paints and a more expensive fabric, we wouldn't have been able to do nearly the work we were able to do for the money–all eight banners we had finished by the beginning of April only cost slightly more, including all supplies, than the Cartman banner did. The weight and waterlogging of the canvas wasn't enough to cancel out its availability, versatility, and ease of use. We decided all we needed was for something to last for a season; if they stuck around longer, great, but just enough to get us eighteen games from April to October would deliver the right return on investment.
We did, however, lose two banners. The two supporters' club crests were painted using latex housepaint, but not on canvas–they were done on bedsheets, which we both thought would be a convenient way of getting finished fabric in the right size and color for a decent price. Unfortunately, the fabric and the paint just didn't get along together, and after the miserably rainy game against Chivas on April 30, I took home a bag of wet fabric with paint that had run too much to be salvageable. This taught us another important lesson: Prior to the next home game, vs. Chicago, we called and asked stadium operations not to set out the banners because the forecast predicted (and delivered) another rainy day.