Back in October, a series of unpredictable events led to one of my most popular banners to date. I wondered what became of the banner after Jozy took it home that night, so I bugged him on Twitter for a while.
Turns out he gave it to Davies in the hospital. Awesome, I thought, that's the best place for it.
Little did I know exactly what Davies did with it. In one of his first interviews after the accident, he called in to a Houston radio show, and was asked what he thought of the fan response to his injuries. "One of the first things I saw when I opened my eyes in the hospital was this painting someone did…"
…day-umn
Once he returned to Twitter, I started pestering him, mostly because I'd kinda like him to work with me on t-shirts*. I wasn't expecting a whole lot of direct responses; dude's busy, after all, and when I bug players on Twitter it's really just to make me and my buddies laugh.
He did get back to me, though. Not about shirts, but about something cooler.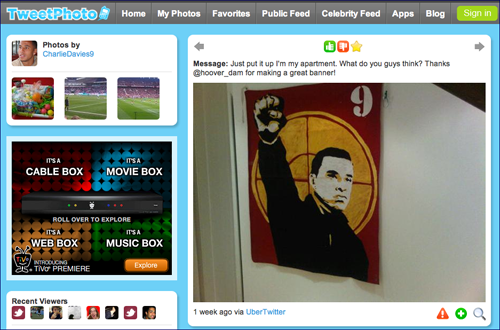 Click here for bigger shot of banner decorating the guy's apartment
So let's see: A thing I did in about six hours at the last possible minute not only went viral among other fans, the players picked it up and ran with it (literally), then the player in the banner itself not only credited it as an inspiration in his recovery, but put it on display in his home. Did I mention it's a player who almost died back in October and is now just about ready to play in the World Cup?
American soccer is the greatest.
*Those of you who've asked me to do a shirt of this banner, the reason I haven't is twofold: I don't own the specific photo I used for reference, and, because someone, you know, died in the car accident in question, I'd prefer not to profiteer. I'd really like to do shirts, but I want to do them right, and that means with full cooperation from the involved parties. I'd feel kinda creepy otherwise.