Early this spring, the gang at The Shin Guardian commissioned me to do a t-shirt in honor of Brian McBride's finest hour, i.e. getting right back up against Italy with a face full of blood. Once McBride announced that he'd be retiring at the close of this season, those same folks at TSG sounded the call to make the 10/9 US-Poland game in Chicago a McBride tribute night. I wasn't able to get out to Chicago for it, so I had my pal Fran from AO Boston shuttle a modified version of the t-shirt design to the game.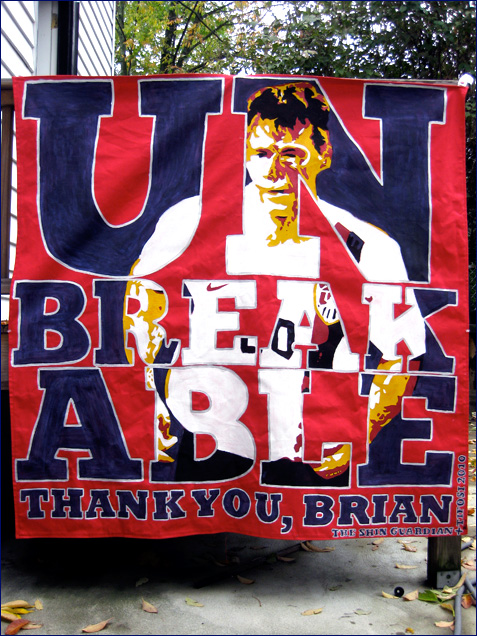 pay no attention to the font mismatch
This version adds "Thank you, Brian" and "The Shin Guardian + Tifosi 2010" to the bottom, and the lettering's outlined in a metallic silver color–matching the titanium in McBride's shatterproof face. It was a huge hassle to paint, because the colors required multiple coats over base coats to appear opaque over the red background. The next time I do a banner calling for a dark color background, I'll just do it on white and fill in the rest with paint. Not only that, I kept painting over places that were supposed to be left red, namely the blood on his face, but that was fixed by covering with an opaque metallic blood red–it's always nice when you can screw something up and it turns out better than if you hadn't made the mistake at all.
Given to US Soccer to pass along to McBride, as far as I know.