Last year, the Boston chapter of American Outlaws had a brilliant idea: instead of just a winter party, throw a winter ball for charity, where everyone gets dressed up and goes out dancing, like a prom, only you're allowed to be honest about the alcohol. It was a smashing success, raising thousands for the local chapter of America Scores. When they announced plans for this year's ball, I decided to get clever with the outfit.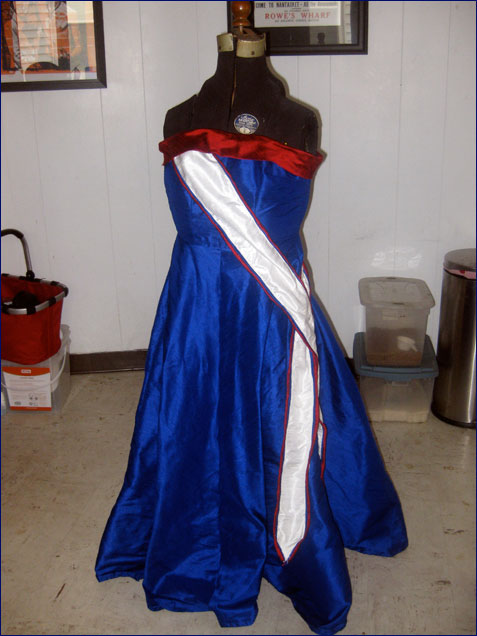 The 2010 US Men's national team jersey, in dress form. Based on a pattern dating from, appropriately enough, 1950. Whole thing is silk; my mom fronted for the fabric as an early Christmas present. Altered the sash so that it split in half across the top of the dress, rather than around the waist, added blue and red piping around the sash, and held the two halves of the sash together with one of the buttons left over from the Campaign 2010 project.
Except things didn't turn out quite as they look on that dress form.
The night of the ball, I cashed in a gift card and had makeup done, got dressed, put on some bracelets I got in Johannesburg and a necklace I got from a Nigerian street vendor here in Cambridge, then waited for Julie to come pick me up, as Mike was going to the ball straight from work. As I twisted around to adjust one of my stockings, I heard a zip.
The entire zipper self-destructed, just as Julie pulled up in front of my house. There was no time for her to fix it, as she had someone else in the car. I sent her on the way and called Mike to come home. I tried to get him to pin it together, to sew it in Marilyn Monroe-style, and to staple it, to no avail. Finally, I stitched in some leftover hooks and eyes, good enough to hold it together in the dark, with half of it covered by the sash anyway.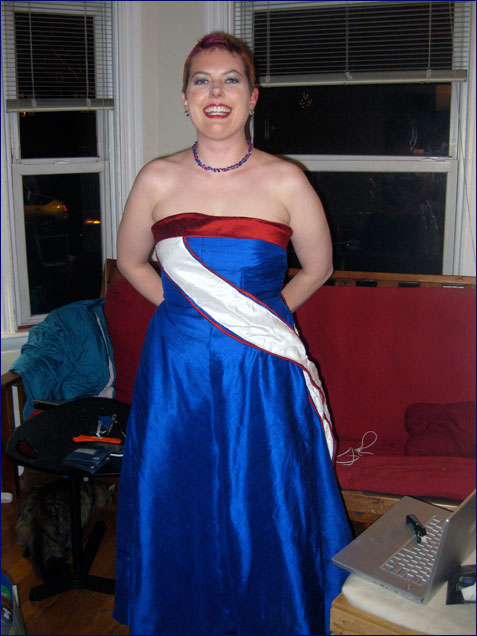 We headed for the prom, more than fashionably late, and had as great a time as last year. I'll install a new zipper on the dress at a later date; it's too nice to wear just the once.