This spring, over the weekend when it was being determined what MLS club would land Benny Feilhaber, it looked for a few minutes like Chivas would be his destination, to the delight of my SoCal based-pal Bamboo. Sure, she's a Galaxy fan, but just the idea of him being around town was enough.
Of course, Benny wound up in Boston.
Shortly thereafter, the Revs hosted a meet and greet with their allocation prize, so I dutifully sent Bamboo the above unflattering photo of myself with Benny just to make her jealous. I kept this up all season long, teasing her when he turned up on local magazine covers, at Meet the Revs, or at the Portland Mexican Independence Day party.
Meanwhile, Mike and I had a trick up our sleeves. At Meet the Revs this year, the stupid question we got Benny to answer on video was "tell our friend Bamboo how much you love her, like we're holding a gun to your head."
"Her name's Bamboo?" he said.
"Yeah, just go with it."
"Hi, Bamboo, you're awesome, I love you, uh…what?"
"Like we're holding you at gunpoint."
"What? That's terrible."
"You're a horrible actor."
He'd derailed the joke, of course, but managed to take it in a better direction.
Shortly after we got the video, we found ourselves with a cache of US Soccer warmup jackets. "We should send one to Bamboo," Mike said. "Get it autographed by Benny, even!"
One week before the season ended, I remembered to take the jacket to a game and got it signed. The next day, Bamboo was watching an NFL game and wondered aloud on Twitter where could she find one of those pink do-rags that the players were wearing in support of breast cancer awareness. As it happened, I had a spare pink do-rag that the Breakers had given away at their breast cancer support game. "Send me your address and I'll send it to you," I said, delighted that I had an excuse to ask for her mailing info. Mike put the video clip on a thumb drive, and I wrapped the jacket and the local magazines I'd been hoarding with a tag that said "WATCH THUMB DRIVE BEFORE OPENING." Threw 'em in a box with the do-rag and sent 'em off across country.
A few days later, I got this: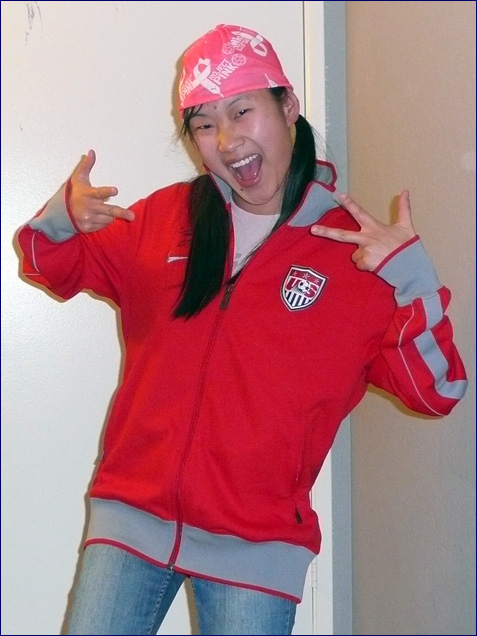 his signature's under her right ponytail
"OH. MY. GOD. There are no words in my vocabulary that describe a) how I feel right now and b) how thankful/appreciative I am c) how much I love you and d) how much I am FREAKING THE FUCK OUT. I am like, THIS close to crying, y'all. You are both truly amazing. I can't even find the words to thank you. Oh fuckit, I'm totally crying. And still freaking the fuck out. I had a breakdown for like, 20 minutes when I popped in that flash drive, and another breakdown when I opened the package. It means so much to me that you thought of me, and seriously, it pretty much made my year. So thank you. I am incredibly touched. Also, the magazines are a nice touch. Benny can do no wrong. (I can't believe there's a magazine called the Improper Bostonian!)
"I was also pleasantly surprised at how easy it is to assemble a do-rag, even though I don't rock it with the same finesse as some of the athletes out there. "
Even in an otherwise ghastly year, I can always find a reason to keep doing what I do.