When the guys at MLS Extra Time realized who Mike's plus one for the weekend would be, they asked me if I'd like to do a special t-shirt they could give away all weekend. Hell yes, I said.
On Friday and Saturday, I got a series of emails. "Well, this might be impossible, but could you do one where it's the guys from Pike Place throwing fish, only they're throwing the trophy, like one guy throwing it on the front and a guy catching it on the back? And the guy catching it is behind a fish counter? And could you get it to us by end of day Tuesday?"
"End of day?" I said, "how 'bout 'before Price is Right comes on?'"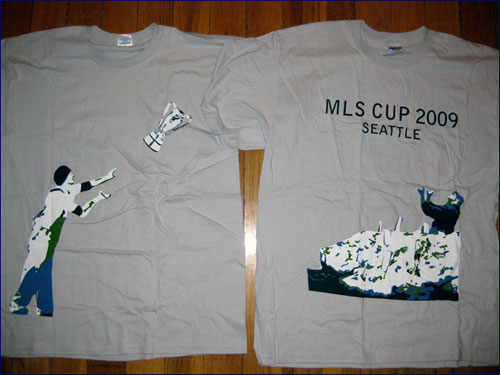 click for bigger
The final shirt. I'd rather the graphics have been printed along the bottom hemline, like they were on the Fierce ones, but whatever. Hidden inside the display case are the Superliga, Open Cup, and Supporters' Shield trophies. These were kind of a hot item this weekend; they only ran up 150 and every single one was gone before the game. Half were done as you see above (pitcher on front, catcher on back) and half were done in reverse (catcher on front, pitcher on back) so you had a complete picture if you had two shirts side by side.
Had a lot of fun doing these, since I needed the practice on Illustrator. Hope I get to do more next year!