When I was in Toronto for MLS Cup 10, I met a man named Sean who was working on a book about American soccer fandom. I talked a bit about banners and what I do, and then didn't hear from him again until late last year, when he hit me up for a more in-depth interview for his book. He also asked if I'd be interested in creating a piece that would be put on a banner and used as an illustration for the book. The theme: "Belief."
I went through some old photos, and picked out one from South Africa. Post US-Algeria, I got a shot of this guy sounding the vuvuzela of victory: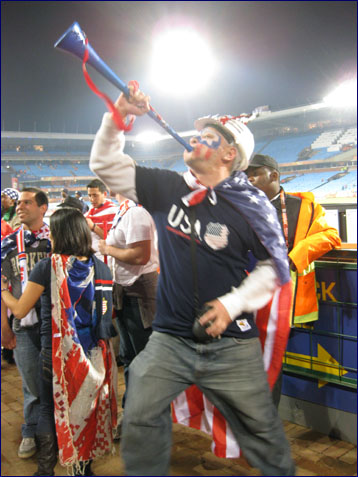 If you're familiar with the Mormon faith, you may know that atop many of their temples is a statue of an angel named Moroni blowing a trumpet. I'm not LDS, but the photo reminded me of that, and the concept of Mormonism as a wholly American homegrown religion made a neat parallel, I thought, to homegrown American soccer fandom.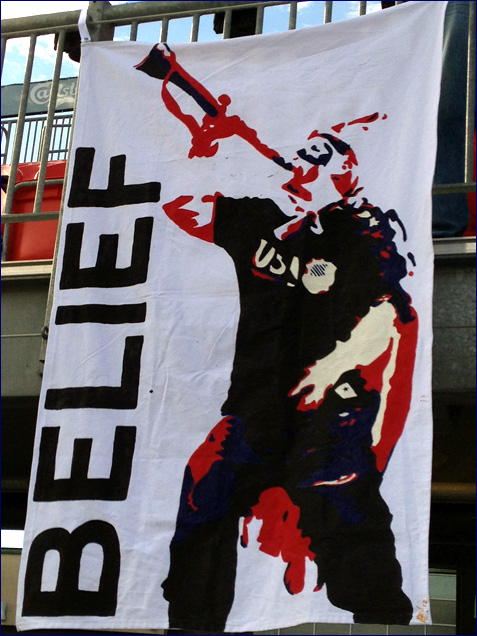 The finished project looks a little like a clown, with the facepaint and makarapa, but you get the idea. Spilled paint on the arm that had to be gone over with white, which I usually dislike doing. Went with me to US-Canada in Toronto, where, sadly, belief was not enough to get us past a 0-0 draw.