Remember this thing from last September?
Those two banners finally debuted this evening.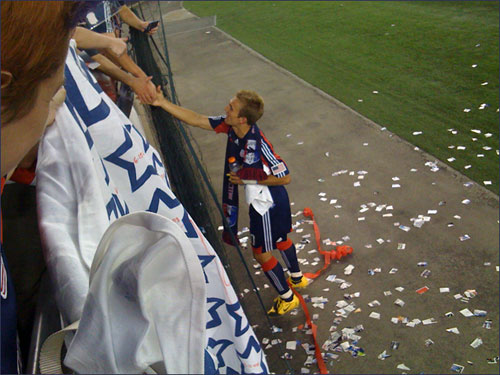 At the beginning of the 2008 season, it crossed my mind that Twellman had 91 league goals to his name, and surely he would cross the century mark that season. Then he got injured. Then he came back, and people around the tailgate parties and the Fort started asking me if I had anything cooked up for the eventual hundredth goal. I did, of course, but only in September did I start the sewing and painting.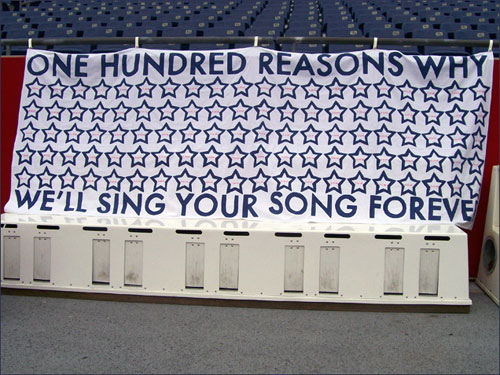 100 REASONS WHY WE'LL SING YOUR SONG FOREVER; click for bigger
This was the first one, a banner with 100 stars, each star containing the date the goal was scored. I debated for a while about what to use as goal markers; soccer balls were rejected as too close to the old Taylor Tally banner, and wrapped left wrists were discarded as "too abstract even by my standards." So I went with stars. In some cases, there are editorial comments under the stars–the third one for 7/16/05 is marked "it was a w-hat trick", and the one for 5/6/06 says "this was my favorite." In a few cases, the dates are out of sequence because I screwed them up as I wrote them. I kept a tally up until the 99th goal, and then at the last home game of the season, got the banner ready for display, tied up with a note indicating it should be opened only in case of 100th. This was probably a jinx.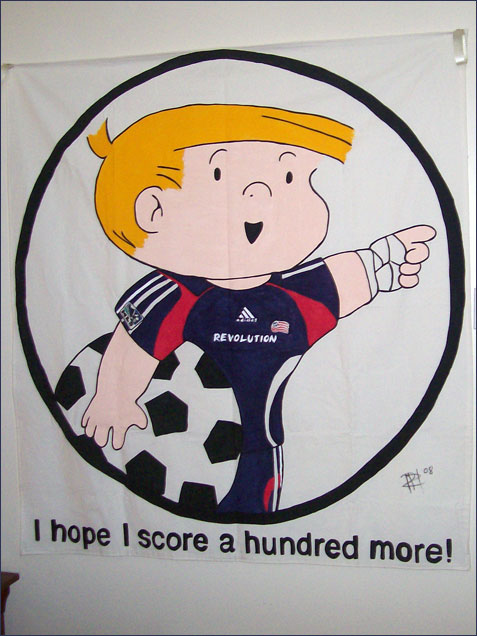 I HOPE I SCORE A HUNDRED MORE
This was the second one, which I drew up based on an old dumb graphic I had lying around. See, the kids in the Family Circus have these huge heads, and there was a panel where Billy is holding a soccer ball drawn completely without reference material, and…I don't know, for some reason this just tickles me. I really like how this one turned out, and there's a stupid level of detail on it, down to the league patch. I even moved my signature from the lower right corner hem to just under the right of the panel, just like Bil Keane. This is probably a sign I need serious professional help.
Then the end of the season came and went, freezing the record at 99, and then it turned out he was more hurt than we all thought, and didn't turn up until almost June the following year. When I heard he was headed back, I brought the banners out of their winter home (half Julie's attic, half my sewing cabinet) and into the stadium. This time, I folded them up in front of the Fort sections, so I could control when they were deployed, and I brought along the fabric marker I used to write on the stars.
Then he didn't score. Well, actually, he came close, but around the 80th minute of his first game back, I kinda knew he wasn't gonna hit 100 that night. Nah, he'd do it the following week and kill RBNY.
I should've put money on that.
I also maybe should've put 101 stars, since that's how he ended the game. Afterwards, we stood and chanted for him to come over and sign his banners, waiting for him to finish some postgame interviews.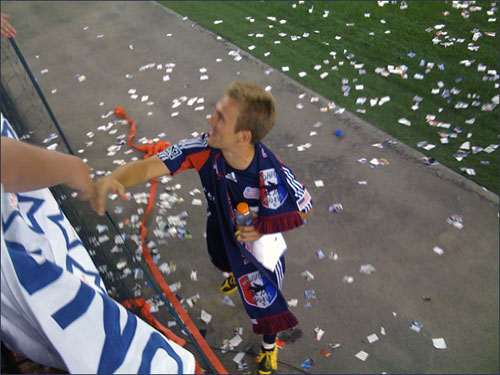 "This is the coolest thing I've ever seen in my life," he said.