This post's a special case; it's copypasta an adaptation of an intro to the 2010 US World Cup squad written for a forum I frequent. That's why some of the material's going to be familiar if you read this site often, and why I'm too lazy to scale down the images to fit this site's template. So if you feel like reading an image-heavy guide to the USMNT and don't mind the site body not matching the site header, then let's crank the tunes and get to work.
HOOVER DAM INTRODUCES HER UNITED STATES NATIONAL TEAM
Or rather, the Men's national team. We're kind of sensitive about that in the US, 'cause it's the chick team that's got the stars on the jersey; they go for a chance for a third one next summer in Germany. Hence a lot of us referring to this squad as the USMNT. That's also a holdover from Twitter, where @ussoccer's house style requires specifying whether it's the boys or the girls playing. (Major difference: The WNT is the one with the unquestionably effective forward).
HISTORY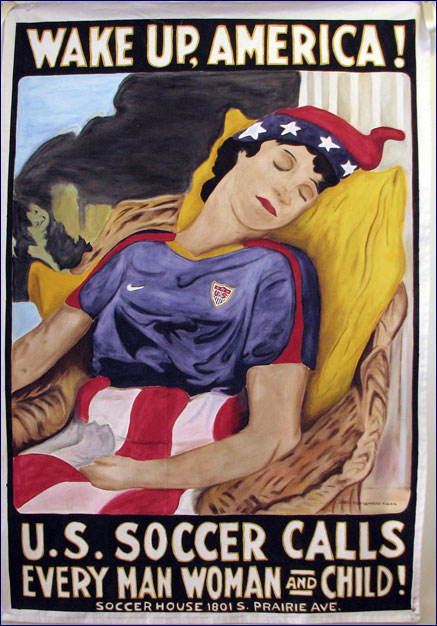 1930: semi finals
[nothing happened until]
1950: beat England
[nothing happened until]
1990: We're back bitches
1994: We hosted the damn thing and gave the world Alexi Lalas. The world immediately gave him back.
1998: [scene missing]
2002: quarter finals
2006: [scene missing]
Outside of the World Cup, we made it to the finals of the Confederations Cup last year, beating Spain. Within CONCACAF, we like to get in dick waving contests with Mexico a few times a year.
YEAH, WE DON'T CARE, WHO ARE THESE GUYS?
Led by coach Bob Bradley
The 30 man roster, per May 11th announcement:
GOALKEEPERS (3): Brad Guzan (Aston Villa), Tim Howard (Everton), Marcus Hahnemann (Wolverhampton)
DEFENDERS (9): Carlos Bocanegra (Rennes), Jonathan Bornstein (Chivas USA), Steve Cherundolo (Hannover), Jay DeMerit (Watford), Clarence Goodson (IK Start), Chad Marshall (Columbus Crew), Oguchi Onyewu (AC Milan), Heath Pearce (FC Dallas), Jonathan Spector (West Ham United)
MIDFIELDERS (12): DaMarcus Beasley (Rangers), Alejandro Bedoya (Örebro), Michael Bradley (Borussia Mönchengladbach), Ricardo Clark (Eintracht Frankfurt), Clint Dempsey (Fulham), Landon Donovan (Los Angeles Galaxy), Maurice Edu (Rangers), Benny Feilhaber (Aarhus), Stuart Holden (Bolton), Sacha Kljestan (Chivas USA), Robbie Rogers (Columbus Crew), José Torres (Pachuca)
FORWARDS (6): Jozy Altidore (Villarreal), Edson Buddle (Los Angeles Galaxy), Brian Ching (Houston Dynamo), Robbie Findley (Real Salt Lake), Herculez Gomez (Puebla), Eddie Johnson (Aris Thessaloniki)
Of these, 7 will stay back. My picks for who stays back: Marshall, Findley, Buddle, Kljestan, Johnson, and either Pearce or Rogers. Possibly Bedoya, because BC sucks.
Who's not on that list: Charlie Davies, who just couldn't get healthy enough from nearly, uh, dying back in October in enough time for everyone to agree he could play. I'd put money on him showing up as a tourist, however.
ABOUT THOSE INJURIES
Davies wasn't lucky enough to make it, but Holden, Onyewu, and Ching, among others, have only just recently come back from injury, with training camp expected to be the most significant playing time they've seen in a while. DeMerit's been in and out for a while with various injuries, including a cool gory corneal transplant. Sustains a lot of confidence, eh? Then there are the other guys who, for whatever reason, haven't been getting much airtime back at their day jobs–Beasley, Altidore–or who spent their seasons mismanaged (West Ham fans haven't seen much of Spector's good side, in any sense of the word).
SO WHO EXACTLY ARE YOU CONFIDENT ABOUT
Short answer: Nobody listed above as forward
Longer answer: We're good on goalies. God is a large bald man, after all. If we're able to run with the defensive line we had late in the Confed Cup, with Boca at left back and Gooch and DeMerit in the middle, we've got some muscle there. Michael Bradley plays every game with a chip on his shoulder the size of New Jersey; provided he keeps that anger an asset, not a card liability, he's a monster in the middle. Donovan and Dempsey are our two best field players, period, provided we get mid-season Everton Donovan and not mid-August bored Galaxy Donovan. They're both listed at mid but expect one or the other to start at forward alongside Altidore.
Breaking it down further:
ABSOLUTE HEART OF THE TEAM
Howard, Donovan, Dempsey, Bocanegra, Bradley
IF THEY'RE HEALTHY, THEY'LL FUCK YOUR SHIT UP
Onyewu, DeMerit
NORMALLY SOLID BUT JUST GOT OFF A ROUGH YEAR AT THE OFFICE
Cherundolo, Spector
OUT TO MAKE SOME SERIOUS NOISE
Feilhaber, Clark, Edu, Holden, Torres
PLEASE DON'T DICK AROUND THIS TIME
Altidore
PROVE US WRONG, GUYS
Beasley, Bornstein, Ching, Goodson
SURE, WHAT THE HELL
Bedoya, Gomez
IF YOU PLAY LIKE YOU DID IN 2008 AND LOSE THE GODDAMNED PEDOSTACHE
Kljestan
ALONG FOR THE RIDE
Pearce, Rogers, Marshall, Findley
HAVEN'T WE LEARNED BY NOW?
Johnson
THE STARS ALIGN
Buddle
WHO'S EDSON BUDDLE?
I was told to do a WC writeup, not a summary of MLS in-jokes
HEY HOOVER, DON'T YOU HAVE ANY DUMB NAME-DROPPING ANECDOTES ABOUT THESE GUYS?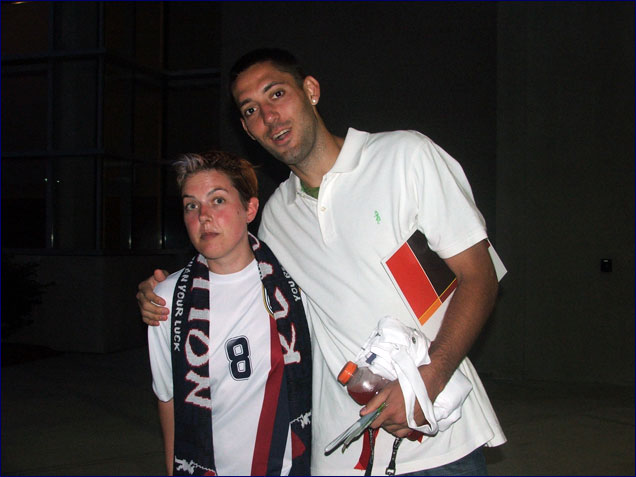 Surprisingly not many, except for Dempsey, whom I've known since he was a leetle baby Rev. Couple of incidents at bars, tailing Gooch around Hartford for the sendoff four years ago and trying to steal Holden's tie last year at MLS Cup. Once yelled at Kljestan in the security line at LAX.
US-Costa Rica game last year in DC, Altidore stole a banner and Donovan wore my scarf. That's also where Sunil Gulati–the head of the federation, i.e. the boss of everyone in this post–kept kibitzing an interview I was doing, telling a reporter I was secretly Costa Rican. Just about everyone else I've only mostly seen/yelled at on the sidelines. I believe Hahnemann and Bedoya are the only ones I've never seen play in person, though I've at least stood next to Hahnemann in a hotel lobby. That motherfucker's huge.
WHAT'S THE TEAM'S BEST CHANCE/STRATEGY?
Play everything like the Spain and Egypt Confed Cup games, only without Davies.
AND IF YOU CAN'T DO THAT?
Distract Wayne Rooney with a selection of elderly hookers and pies.
WHERE ARE THE HOT CHICKS?
Their World Cup is next year.