When last we left, we'd spent another week in Johannesburg hanging around watching soccer games. Now it's the time for the third part of the story, in which we decide it's a good idea to go on safari with, among other people, these clowns.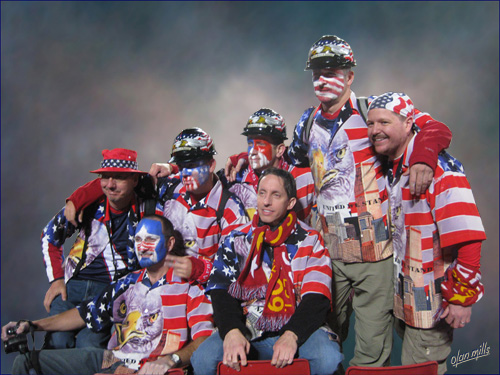 JUNE 19-25
Doug and Tanya came to pick us and Monty up around mid-morning, and we we went to yet another mall to meet the rest of our safari caravan. Also, to get more beer. The mall had a crafts market set up, including one vendor who had excellent cupcakes, and another who had local honey products. Score. We had four different vehicles bound for the safari; our buddy Sean arranged for us to spend four days at a lodge in Mapungubwe National Park, up near the Zimbabwe and Botswana borders. The cars split up around noon and we hit the highway. Not long afterwards, a police escort pulled in front of us. "Huh, police escort, must be a vip or tea-HEY!"
It was the US team bus, bound for Pretoria. We tailed them until they took the exit to get to Pretoria, an exit we were supposed to take but didn't. This was foreshadowing. We tried to get a closer look, but there were Secret Service vehicles blocking the lanes, so you couldn't get any closer than about three car lengths. Tanya made sure to yell at the team via Twitter, because, of course, we're horrible, horrible nerds like that.
In theory, the drive from Johannesburg to the lodge is about five or six hours, so a noon departure would put us at the park right around sunset. In practice, every single vehicle took a wrong turn, a detour through some of Polokwane's, ah, less touristed areas, and a totally different route to the park. We got the most sidetracked. Just about sunset, shortly before 6pm, we pulled into a dilapidated gas station to see if anyone was around to give us directions. The attendant quickly pulled out a brand new Blackberry and got the route for us, then chatted for a bit about the difficulties of maintaining a nice mobile phone in his line of work.
Turns out there was a decent shortcut that would get us to the park a little after 8 pm, but it required going down 17 km of unpaved road. We did get to pass a giant porcupine, though. That sucker was huge! Rolled up to the lodge at 9pm, exhausted and starving; fortunately, the lodge staff set aside dinner for us, including a fantastic melktert. As we arrived last, the rest of our buddies explained that they'd already decided the pecking order of who in the party would be eaten first in case of lion attack, and that we'd be among the last to go (single males carrying manpurse, single males, single females, married with adult offspring, married no offspring, married with young offspring). That was very considerate of them.
Sunday morning, we all got up and realized the only coffee at the lodge was instant, then headed over to the park's main gate for our first tour. This was the Mapungubwe Heritage Tour, a short drive and hike up to the top of a rock to tour the park's archeological site. Our tour guide, Cedric, showed us a sample dig site and told us about the location's significance as the heart of the Great Zimbabwe kingdom. Very cool stuff; on the tour, you're walking around ancient house foundations, pottery shards, and burial sites like you're in all of humanity's back yard. Cedric was also quite adept at completely making up spurious explanations for what we were looking at, including playing up his accent to convince us that there were "lions" off in the distance rather than "lines."
INTERLUDE: TWO INSTANCES OF WHITE PEOPLE BEING TOO OBLIVIOUS TO REALIZE THEY'VE PUT THEMSELVES IN MORTAL DANGER
1. One of our group, Scott, is an avid runner, and decided to go for an early morning jog by himself, despite the signs around the park warning against touring the grounds alone. The staff got wind of this and read him the riot act, explaining that it was extremely dangerous to go out unescorted, as there were "naughty elephants."
2. In order to get mobile phone reception, you had to climb to the top of a rock overlooking the lodge, about which more later. A few of our party did this and told of seeing an interesting looking snake on the way down. "That was a puff adder," said the lodge staff; they're aggressive, and if one bites you, it's not a matter of getting you 90km to the nearest hospital, it's a matter of radioing for a helicopter and praying.
After lunch, we went back out for the sunset tour. The first part of the tour was a drive to the observation deck over the confluence of the Shashe and Limpopo rivers, which means we were kind of like in Pittsburgh. We watched the sunset there, over the borders of Zimbabwe, South Africa, and Botswana, and it was absolutely stunning. We even got to see some elephants!
When the sun went down, we got back in the trucks and drove around with a big spotlight, looking for animals by the reflection of their eyes. We drove along the fence marking the Zimbabwe border ("Dude, I could totally spit on Zimbabwe from here!" Tanya observed); Leonard, our guide, explained that the electric fences along the frontier were there to keep elephants and water buffalo from crossing illegally. Apparently there's a real problem with them coming in and working illegally, plus the elephants tend to sell meth. We didn't see any elephants or water buffalo on the rest of the drive, but we did see lots of wildebeest, impala, eland, rockhoppers, baboons, and an eagle owl and plover who were none too thrilled we'd come near their nests.
That night, the staff cooked us a supper of all traditional African foods, which, of course, turned into a contest to see who would actually eat and enjoy the chicken heads, chicken feet, and mopani worms on display. Answer: Mike. The gang really did eat the spread, much to the delight of the staff, who were used to tourists turning up their noses at the weirder stuff. (The staff were also happy to make meatless meals for me, so, while I wasn't in on that night's tripe or the next night's game meats, I did get plenty of samp, pap, local greens, and spicy chakalaka, all of which were fantastic).
Monday morning, about half of us got up around 5:30 to take the sunrise tour. Foolishly, Mike and I forgot to bring blankets, so the first half of the tour was us in the front of the truck thinking "wow, this is so awesome, this is OH GOD I'M FREEZING." We drove back to the confluence overlook, watching the sunrise on the winter solstice, and then continued around the park. No elephants or big cats spotted, but we did see zebras, ostriches, and lots more baboons and game animals. We also stopped at the marsh canopy walkway, overlooking the riverbank, to look for more animals, but we saw only birds and one huge painted Nile monitor lizard. Yes, by then we'd reached the point where we were starting to get blasé about "only" seeing game animals. Still pretty cool, though.
Monday afternoon, I went with Doug and Tanya to Alldays, the nearest town, about an hour and a half down the road. I should mention that when they got their rental car from the airport, it had four hubcaps; at this point, it had two. The rest of us thought they should take the remaining hubcaps back home to Des Moines and turn them into clocks or something as a souvenir. In Alldays, there's a stretch of storefronts aimed at visitors to the park and various private safari lodges nearby–gas, ATM, liquor, convenience store, and, for some reason, a combo frilly gift shop and internet cafe. You do not realize how bloated current web pages are until you've spent half an hour trying to send one email at an internet cafe in rural South Africa. We'd have gotten back to the lodge sooner, but we kept having to stop along the way to watch wildlife. This is Africa.
After supper that night, the staff joined us around the campfire, eager to share songs and stories and hear of our impressions of the country. They were confused as to why Americans seem to swear so much. "South Africans, we don't say fuck very much, that's a very strong word." Admittedly, their sample cohort of a bunch of sports fans on vacation, many of whom were from Texas, may have skewed the results somewhat. We ended up keeping the staffers up late enough they had to stay the night at the lodge; when we left on Wednesday, they commented on how unusual it was for us to want to hang out with them, as most of their other visitors just treat them like servants. Why would we do that? They were awesome folks who showed us outstanding hospitality; damn right we're gonna want to talk to them and hear their stories.
Tuesday morning, I slept in late, while the others went on a self-drive tour to find elephants; no such luck, but they did end up playing soccer on a rock flat. Mike and I went back to Alldays with a few others to run some errands. When we came back, we joined the rest of the group in climbing to the top of the rock overlooking camp, aka the phone booth. They'd all brought chairs and drinks up to the top of this thing, and since it was early afternoon, that meant morning in the US and a good time to call home. Hanging out in lawn chairs, watching elephants in the distance, drinking cider and calling the other side of the world is not a bad way to spend an afternoon.
INTERLUDE: TWO NAVEL GAZING OBSERVATIONS ABOUT BEING ON SAFARI
1. This wasn't limited to safari–it actually hit me when we first checked in to our countryside guesthouse upon arrival in South Africa–but damn was it weird to look around at the landscape and have no idea what any of the plants and animals were. Looking up at the night sky and seeing the Southern Cross had a similar disorienting effect.
2. I've lived in a big city for 16 years; I love it here and it's where I want to stay. But when I was out on safari, I had the same sense I did when hiking in the Fjords or driving through Costa Rica: Suddenly, I'm 8 years old and back on the farm in West Virginia. I'm on the other side of the world in a totally unfamiliar environment, but I'm comfortable and at home.
Okay, enough of that. While Doug and Tanya went to Mussina (the nearest city, along the Zimbabwe border, described by one of the guidebooks as lacking the charm of US-Mexico border towns) to fix a flat tire, half of us went out on another self-drive tour while the rest stuck around the lodge to watch Bafana Bafana fall just short of the second round of the tournament. I went out on the drive; Mike stayed behind. We ended up not seeing much on the drive, though we did end up going way off course, straying far enough from the main trails that we had to be let out of someone's gate. Once back at the lodge, we ate all the rest of the food, then called it an early night, because we'd have to leave at 7 the next morning to get to Pretoria in plenty of time for Wednesday's US-Slovenia game.
Sure enough, we all left at 7, though we were a bit concerned when Doug and Tanya were late to meet us at the lodge gate. Turns out they were held up in traffic, i.e. there was an elephant blocking their route. On the way to Pretoria, we stopped for a photo op at the sign marking the Tropic of Capricorn (spelled "Capricon" on the sign), and at a highway service plaza full of other people making their way to their next games–mostly Americans and Argentines in rented campers. We stayed on the right road this time and rolled into Pretoria around noon. Sean, who'd put together such amazing digs for the safari trip, had also rented out a set of snazzy apartments for the group for the night, right around the corner from the stadium. Upon arrival, it took Mike and I about five minutes to decide we'd rather just crash on the couch in Doug and Tanya's apartment than try to get back to Johannesburg postgame.
After getting suited up for the game, we dithered for a bit about where to meet various people, like Erin and Jay. Bar charging R100 cover, or bar with no cover? We went to the one with no cover, which was absolutely jammed with Outlaws and Sammers who'd been there for hours already. Had a mediocre lunch with Jay, then Mike and I took off for the stadium. As we stood on the corner in front of the stadium, we watched the Algeria bus pass by just as the Boston Glob's soccer writer, Frank Dell'Apa, came up to chat. Once again, the World Cup is all about meeting people at weird moments, though we did leave the bar before Sunil and Garber got there, so I don't get to be that name-droppy on this trip.
The theme for this game was three weeks of pent-up party time frustration–the crowds had been into it before, but this was just off the hook. Every single US fan there was over the top. So, too, were the Algerian fans, who were surprisingly energetic and friendly; they all wanted photos and cheerful smack-talk. Mike and I got to our assigned seats for a few minutes before deciding to sneak downstairs to sit with the rest of our party. And I do mean sit, as this was another annoying "oh come on it's the World Cup, you gotta stand!" confrontation. Yeesh.
Then we had 90 minutes of frustration followed by one goal, right in front of where we were stationed, and that was what we'd all come to see. When I say this was three weeks of pent-up party frustration, I mean it; you could tell that the cheers from the crowd had been bottled for so long everyone was ready to explode. After the final whistle, everyone crammed into the aisle between the stands and the field to keep the party going. I was in the middle of the scrum when Jozy jumped the barricade; I didn't get to hug him so much as kind of grope my way out of the pile to keep from getting crushed. I did lose a contact lens, which is always a sign of a good game. We stayed so long that stadium security had to bring the riot squad out to disperse the crowd, not so much in a threatening manner so much as "uh, guys, game ended an hour ago, we wanna go home" manner. This was also when our friend Kaela hurt her neck in the crowd, so our group did want to stay back long enough to make sure she got to the hospital okay. (She was okay, just got banged up a bit and aggravated an existing injury).
We went back to the apartment, cleaned up a bit, posted some "hay guys what's up" messages online, and then Mike and I decided we'd prefer a semi-quiet meal before rejoining the party. The crowds and enthusiasm in South Africa were great, but there were an awful lot of "OH WOW I CAN DRINK HERE WOOOOO can't hold my liquor" kids in the crowd, so we wanted to give them some breathing room for a bit. Also, shit, man, we wanted dinner. Wound up eating at a fabulous pancake house; seeing as how we'd had burgers for breakfast, pancakes for dinner made perfect sense.
When we rejoined our party at the main bar, most of the kids had, indeed, cleared out; the rest of us were watching Australia-Serbia and Germany-Ghana on the screens. Our pal Trent swore up and down that the shot girls were totally interested in him as a person and that we were all the greatest friends a guy could have. Did I mention the beers there were served in mugs with hollow handles, allowing you to nest one mug inside the handle of another and easily transport many beers in one hand? Anyway, after the games ended, the DJ came on, and, once again, began the set with "Wavin' Flag" and "Waka Waka." This time, rather than standing on top of a keg singing "Wavin' Flag," I was linked arm in arm with some random Slovak dude ("You've been to Bratislava? Really?") and my buddy Rand, a college professor by day whose not entirely secret identity is "ill-tempered US soccer fan." We lingered for a while longer, then decided to call it a night. On the way out, we passed the bar's separate dance club, where Trent was displaying how he had about as much game as the North Korean team.
That wasn't quite it for the night, however; turns out there was a group of Chilean fans in the same apartment complex having a braai out in the parking lot, so we chatted with them for a while. Sadly, they did not offer us any delicious sandwiches with green beans on them. I think we finally wound up hitting the hay around 2 am.
The next morning, we all rolled out of bed much later than anticipated, then rolled out of the house much later than anticipated. The gang went its separate ways–some of us back to Joburg, some of us off to Swaziland, some of us back to the US. Mike and I went with Doug and Tanya for pancakes, then back to Joburg, where we'd intended to spend the day touring Soweto. When we got to Doug and Tanya's guesthouse, we asked the hostess for directions, at which point we learned how to say "whaddaya wanna go theah foah" in Afrikaans. Wound up being easier than we thought, though by the time we got there, the Mandela House was closed for the evening, so we hung out for a bit on Vilakazi Street, picked up some souvenirs, and chatted with some very cool street musicians. This was my biggest "damn I wish I had more time to spend here" regret for the trip, more so than not being able to get down to any of the coastal cities.
We did, however, manage to get the best souvenirs in Soweto. Mike got a badass Steve Biko t-shirt from a street vendor, I gave a newsstand clerk R20 to tell his distributor the old bottle of Coke I bought mysteriously broke, we all got US jerseys or jackets half price at a shop in the mall, and we stole the greatest souvenir of the trip from the side of the road. See, all along all the street light poles in Johannesburg, there are slots for posters of that day's tabloid newspaper headlines. The headline that day: "LANDON SEALS THE DEAL." Swiped two of those; need to frame them. I'd have had them autographed, but Donovan decided to be a great big wiener and skip the Galaxy's trip to Foxboro in July.
We closed the evening–Mike's and my last night in town–with dinner at Nando's. On the way out, I told the staff how much I was gonna miss the place when I got back to the states. Whether that was the restaurant or the country itself, I can't decide.
Friday morning, we went to get some last minute souvenirs, including a half-dozen bottles of hot sauce, before Danny the cabbie came to get us for the airport. Mike had discovered that one department store had put all its Bafana Bafana merch on 50% clearance, so he asked if we could swing by a mall along the way. Danny obliged, though the route took us through the outskirts of a part of town he said he'd never go through, and Mike and I did a Supermarket Sweep grab of enough Bafana Bafana t-shirts to make sure everyone on the souvenir list was covered. Got to the airport with minutes to spare, then it was off to Nairobi.
At the airport in Nairobi, where we had a much longer layover than you want to have there, we saw an English fan in a t-shirt reading "ENGLISH PLAYERS SCORE MORE." I guess since there was a silhouette of a naked lady on it, it was referring to John Terry or something, since it sure as hell wasn't about their men's or women's teams. The rest of the trip back was relatively uneventful, except for some disastrous bagels in Heathrow. At every single customs checkpoint, ticket check, security check, we got asked why we hadn't stayed back for the US-Ghana game. "We'd love to," we said, "but our day jobs wouldn't."
Got back to Boston in time to race a guy in a Donovan jersey for a cab to get to watch the US-Ghana game. We were in such a hurry that Mike left the duty-free liquor he'd bought in Kenya in the car. Whoops. Walked through the door just as the game kicked off, and, welp, turns out Mike and I left on a high note. Annoyed as I was by that result, those three hours took nothing away from the previous three weeks.
So that was my trip. There's one more part to this story–the epilogue with the semi-serious observations –but I'll get to that in a bit. It was an absolutely amazing trip to a wonderful country full of very cool people, and I've been missing it ever since I got back. My buddy Erin put it best: "When I came to Africa, I expected harshness, but I found only warmth." For as much as everyone feared the worst from the country and the tournament, turns out South Africa knows how to throw one hell of a party.