Another offseason commission, this time for a buddy in Dallas who wanted a flag celebrating various Texiana: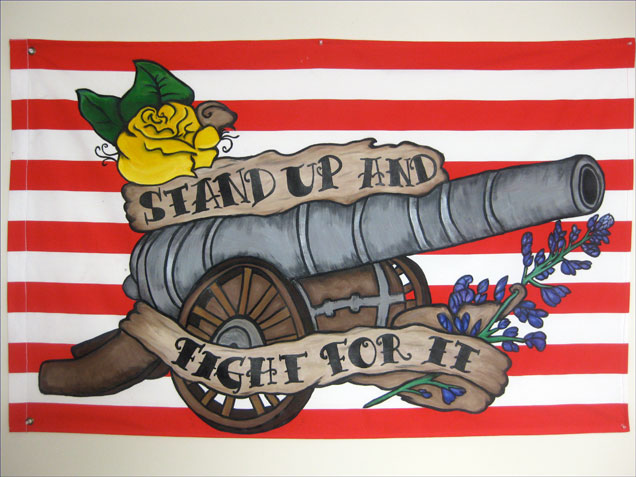 STAND UP AND FIGHT FOR IT, 3'x5′
He gave me a list of things he thought might look good against FC Dallas's horizontal stripes, including, but not limited to, a yellow rose, bluebonnets, and the El Capitan cannon that's the centerpiece of the Dallas/Houston rivalry. I drew up a concept, and he wrote back saying I'd more or less drawn what he'd just gotten for a tattoo. Score! Even better, my local fabric store had red striped fabric ready to go. Loved getting to play with the colors on this one, even if the perspective on the cannon is a little off. Finished product has a 1″ sleeve on the end for a pole and grommets for hanging instead of the usual banner straps.
Text is from an old Drivin' n' Cryin' song, since, you know, when you think Texas music, you think a band from Atlanta.