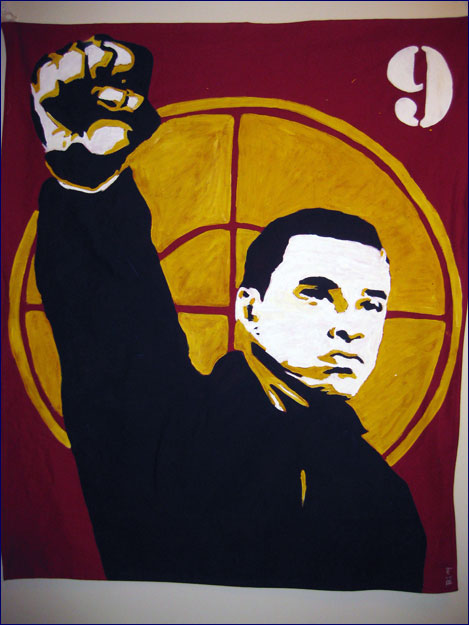 The night before I flew down to DC for the US-Costa Rica game, word came that Charlie Davies was seriously injured in a car accident early that morning. Immediately, fans mobilized to get tributes to him set up for the game, and people asked me if I was going to do a banner. I initially declined, but then I remembered I had some leftover red fabric and a half-formed idea in my head about a Shep Fairey poster. So this happened. Took about six hours from Photoshop to finish. (And yes, as someone who's more than passingly familiar with the works of Fairey, Davies, and Ridenhour, I knew what the pose might imply. The message here is to stand up and fight the good fight, whether that be for Davies to recover or his teammates to press on without him).
Then some dude in white absconded with the banner after the game.
I spent ten days before the US-CR game painting really elaborate banners, including two WWI posters, and it's the one I pulled out of nearly thin air the night before that got all the attention. I just wish I'd been able to paint this one under happier circumstances.
If you want this on a t-shirt, I'm working on it–there's some pretty blatant art theft going on, and I want to make sure everything's done without getting me a C&D