In January, all-time Breakers and USWNT star Kristine Lilly announced her retirement, much to the surprise of the soccer community, who always figured she was a Highlander and could not retire by conventional means. Here's a player who, in her last national team appearance, lined up alongside players who weren't even born when she got her first cap. If she's not the greatest women's soccer player ever, she's in your top three or I'm not listening to you. So imagine how great an honor and how cool a project it was to get word from the Breakers that they wanted me to design a poster to give away to fans at her retirement ceremony.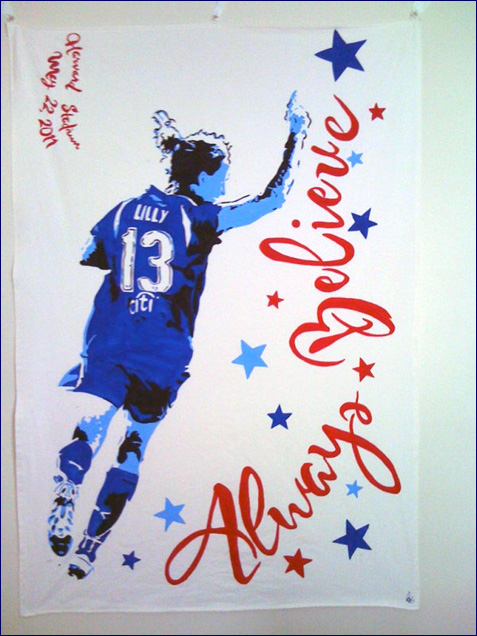 ALWAYS BELIEVE, 5′ x 7′
Initially, the caption was to be "immortal," since that's the first thing I think when I think Kristine Lilly. But when I sent the final draft for approval, they came back with one edit–could I possibly change it to "Always Believe," her personal motto? Sure could. Overall concept for the piece was "a wave of thirteen stars," wave as in Breakers and 13 as in her longtime jersey number. The dark blue's the official Breakers color; the red's the current shade used in US Soccer's palette. Light blue is just dark blue at half strength, as the Breakers only have one official color.
The Breakers gave out 2500 mini-posters and put a larger autographed litho version up for sale; I went ahead and painted it to give to Lilly herself.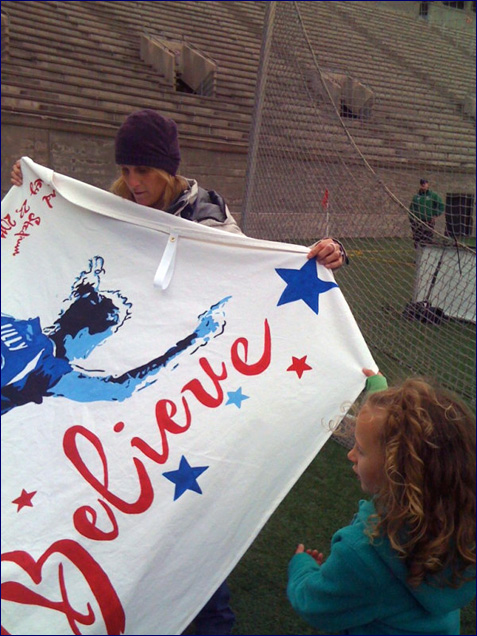 No matter how many of these I do, I'm still blown away when players get my pieces. I'm as honored to have done this project as I am to have seen Lilly play, even if I came in too late for the class of 99. Thanks to Andy Crossley for setting this all in motion, and thanks to Lilly herself for, well, always believing.