When the Revs announced they'd be hitting Tucson for the Desert Diamond Cup, a nifty preseason tournament run by FC Tucson, their new PDL team, I decided it was a road trip I had to take. I'd missed last year's visit to the area, much to the dismay of o.g. Tucsonian Revs fan (and my occasional blogging partner) Ted Prezelski. Besides Ted, I have some longtime family friends out in Tucson, and hadn't been out to see them since 2005. It'd be just like going to Red Sox spring training, only with zero risk of Dan Shaughnessey incursions. Follow the photos and come along for another trip report!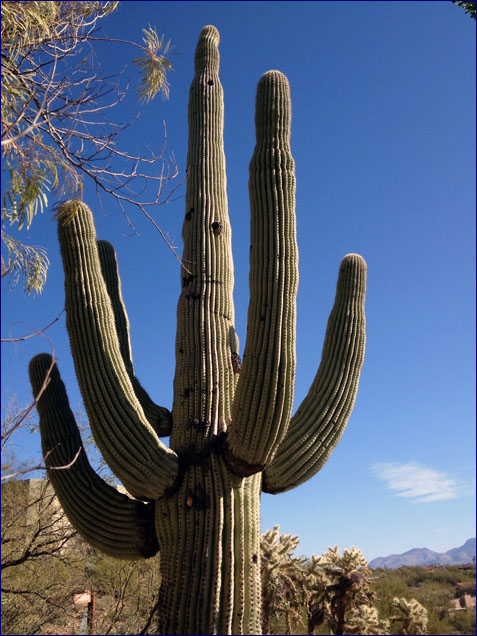 FEBRUARY 23, 2012
Excited by the previous night's opening game, in which the Revs beat LA 3-2 with a Feilhaber bicycle kick, I packed up my belongings in a nylon carry-all and lit out for a long travel day. I flew into Phoenix rather than Tucson, as it's an easy drive, and the price difference between the two cities covered the cost of the car I'd have to rent no matter where I landed. Besides, I managed to do the sneaky upgrade trick where you rent the tiniest car listed, of which the agency will only have one that's already taken, so they give you one size up for free. Only this time I wound up with like three sizes up in a brand new Passat, which, coincidentally, was the kind of car VW was using in a league promotion. (My car hadn't anything to do with this; it was just luck of the rental lot). Got into Tucson–okay, technically Oro Valley–that evening and spent the night with the Munkitricks, the aforementioned family friends.
FEBRUARY 24, 2012
Ted and I arranged to meet for lunch, because getting Mexican food that I can't get in Boston is of the utmost priority. We met up with his pal Caitlin for tamales and rellenos, then browsed around downtown to look for souvenirs, check the head shops to find Kyle Beckerman, or maybe pick up some sort of accessory to wear with the nice outfit I'd had to bring for that night's team dinner. "I'm looking for something horribly culturally appropriative and perhaps outright offensive for an anglo to wear," I asked at an Old Pueblo Artisans shop.
Team dinner? Yes. Ted, writing for the Tucson Sentinel, had gotten credentialed for the tournament, and was permitted to bring a guest to the evening's team dinner at the Desert Diamond Casino, the Tohono O'odham tribal establishment sponsoring the tournament. As Carrie Brownstein was unavailable, I would have to do. This also meant tagging along to the pre-dinner press conference, feeling as awkward and as out of place as I have at any other press conference I've attended. Turns out I was the closest thing to New England media presence that weekend, which is about 32 flavors of sad and alarming. Kyle McCarthy at the Herald explained that it was that or go to the season opener in San Jose on March 10th, and Frank Dell'Apa from the Glob gets shunted to college basketball this time of year, which is awfully inconvenient now that the MLS season is starting earlier. Plus the Glob's soccer coverage is almost all wire service reports at this point, which, for the newspaper of record in the region, is even sadder than me cosplaying as a media member for a local team's spring training.
We filed into the press conference, Ted taking a seat up front and me trying to look inconspicuous in the back, taking long pulls on a glass of water to keep from cracking up at the whole situation. Not that there's much way to hide in a small hotel conference room with about 30 other people, at least half of whom not only know you, they know you're not really supposed to be there.
The presser featured the coach and a player from each team participating in the tournament. Hans Backe and Kenny Cooper from NY, Jason Kreis and Chris Wingert from RSL, Bruce Arena and Edson Buddle from LA, and Jay Heaps and Matt Reis from NE. Buddle arrived a bit late. First up, Backe says a few words, then Cooper talks about moving from Portland. I've always liked that dude and feel mildly bad his career hasn't progressed as it first looked.
Up next, Jay starts to speak, but can't even be introduced without a Duke basketball reference. I make a mental note to corner him at some point and bore him with the story of the time I spent a seasonal break at Duke. Jay says the easiest decision he had to make so far as a coach was accepting the invitation to this tournament. Matt talks about how this is his favorite of the 15 or so preseason trips he's been on.
Kreis speaks next, and also speaks highly of the Tucson preseason experience, adding that its proximity to RSL's academy makes it an easy call to visit in spring. I don't have anything amusing to add about Chris Wingert, who says something about the city's nightlife.
Lastly, Arena talks about how he has a great big smug fish face. Buddle says the stars aligned to bring him here, and that his offers in Europe weren't as compelling as the offer he got from MLS, so he came back home.
Following the intros, we get a an open Q&A, featuring nothing terribly earth shattering. Donovan's not feeling well, Henry only just got in the previous night, Matt likes the weather, Jay seems to be getting this weird Bonnie Raitt-lookin' white spot in his hair in roughly the same place I have the purple stripe, Kreis hated coaching at first and has a really pointy nose, Arena's people evolved over centuries to breathe on both land and sea, you get the idea.
After the press conference, we moved on to the pre-dinner cocktail reception, where Ted introduced me to about half of Tucson, including his podcast co-host Malena, and the mayor. Ted and his family have been involved in Tucson community and political matters for ages, so he knows seemingly everyone in town. We seriously couldn't walk a few blocks through downtown without running into at least three or four people he knew. This also means Ted's a great tour guide for Tucson, able to introduce you to all corners of town.
Turns out Ted was so committed to showing me an authentic Tucson experience that he brought me to a rubber chicken civic dinner. After an opening invocation in O'odham that just reminded me how little I know of Amerindian languages, various delegates from the city, the tribe, and FC Tucson all talked up how nice it was to have the tournament here, even with two other fairly big deal sports events, the Accenture Match Play golf tournament and the rodeo, in town this weekend. The rodeo is a big enough deal that they give kids school vacation week for it, like they do for Disney on Ice in Boston.
After the rubber chicken speeches, the players and coaches were introduced, and, as emcee Greg Lalas brought in yet another tiresome Duke basketball reference, I wished I were seated close enough to throw a shoe at the dais. I told the folks at my table (mostly members of Cactus Pricks, the FC Tucson supporters' group) about the banner process, and chatted a bit with some of the team management present, including Lizz, the Revs pr head, who told me in no uncertain terms I was not credentialed for Saturday night's game. (Not a big deal–if you have media access, you can't act like a fan, and I sure didn't fly out 4700 miles round trip not to act like a fan).
After dinner, I approached the Revs table, looking to get a few minutes to chat with Jay. See, I'd recently sent in some questions for Jimmy Conrad to ask during a podcast interview, and was a little disappointed he omitted some of the questions. I decided to get my own answers, on video, but I stupidly clicked wrong on my phone and didn't get the video answers. Following is a transcript; I at least clearly remember his answers to my two favorite questions (the first and last).
THE JAY HEAPS INTERVIEW I WAS TOO INEPT TO GET ON CAMERA
"I came to bore you with stories about my offseason training at Duke."
"You did?"
"Yeah, Christmas break, 1996, spent a week there doing research for my senior honors thesis in the J. Walter Thompson archives."
"Okay, I didn't do that."
"Anyway, the fan-submitted questions in that recent Jimmy Conrad podcast, well, those were mine, and he only asked half of them, so…"
"So Jimmy Conrad put you up to this? I'm gonna get you for that, Conrad!"
"No, other way around. Would you mind answering the five questions he didn't ask?"
"Sure."
"Someday your epitaph is gonna say 'Noonan missed first!,' right?"
He laughs.
"Come to think of it, which one required the longest term in therapy: 06 MLS Cup, 07 MLS Cup, or 09 Gold Cup?"
"06."
"Remember how awesome it was 05-07? How do we get that back?"
"We're bringing it back. We will."
"Now that we've got DeRo as evidence MVP can be a season plus body of work award, what are you gonna do to ensure Shalrie's back in contention?"
"Shalrie, MVP, huh? Heart of a lion, he's gotta do it."
"Opening day, we gonna have a full roster?"
"If not a full roster, there'll be guys in the queue. We're not going to have cap space go unused just for the sake of having cap space."
"Remember the cupcakes for playoffs bet in 2009?"
"No"
"I bet the team that if you made the playoffs that year, I'd deliver cupcakes to practice, and I did."
"Oh, right."
"Okay, I haven't cleared this with anyone else from the team, figured I'd go straight to the top: You make the playoffs, I will cater Emack and Bolio's Ice Cream Pizza."
"We will. Wait, if you win?"
"You pay for my pedicure. You in?"
"Yes."
"Shake on it?"
"Yes. We are on."
NOW BACK TO THE TRAVELOGUE
After dinner, we took a stroll through the casino; on rodeo weekend, the place was teeming with mullets and mustaches, more than you'd find in all of the 1990'S NHL. However, living in MA for so long means I'm not used to indoor cigarette smoke anymore, and, after wasting a few bucks on slots, my contact lenses demanded we make an exit. On the way back to Ted's, we stopped off at Eegee's for Tuscon-specific frozen treats.
SATURDAY, FEBRUARY 25
Ted and I headed downtown, where we met thirty more people he knew. Grabbed a light breakfast (including an excellent Tcho chocolate and Blue Bottle espresso mocha) and hit the Playground bar to watch some European soccer with Malena. I immediately appreciated the bar, which was open, airy, stylish, and 100% free of OLDE OIRISHE PUBE decorative crap. Being a huge Blackburn fan, I was eager to leave before their match with Man City started, knowing full well Rovers would, and did, get waxed.
We got lunch at Lindy's, a popular burger joint where the tv was showing the Arizona basketball game that'd evidently been in progress since Wednesday afternoon. Afterwards, we drove around town for a bit, then headed to the Mission San Xavier del Bac. The last time I was at San Xavier was the summer of 1991, before it'd been renovated, back when the Tohono O'odham were still called Papago. It's quite beautiful and a must see if you're on your way to Tucson.
One thing I noticed as we were driving around town: Lots of billboards and other ads for the tournament. Even radio ads on Spanish-langauge stations; okay, they were promising Donovan, who wasn't able to play, but it's the thought that counts. And when I would meet people and say I was in town for the soccer, they all knew what I meant and wanted to make sure I was enjoying myself. Everyone seemed very pleased to be hosting a new group of sports tourists.
We headed back to the house to get dressed for the game, making sure we took all the needed supplies–Ted's press badge, scarves, a jacket and hat for once the sun set, camera, etc. Upon arrival at the stadium, we noticed the one thing we'd forgotten was my game ticket. No worries, I said, just go to Will Call and explain the situation. Only Ted had paid cash for the ticket, so the box office didn't have a record to issue me a replacement. Heading back to the house to get the ticket would put us back too late, and we'd heard the game was sold out, so didn't think to buy a new one. We went by the Cactus Pricks tailgate, where they were handily equipped with a big bucket of Eegee's, and asked if anyone had any suggestions. Eventually, a new ticket was procured, and I headed in to take in the game.
I strolled around the concourse and people watched for a while, pausing to chat with Greg Lalas, Brian Dunseth, and Jason Saghini, the team who were running the MLS live webcast of the games. Did some jersey spotting, too. Lots of LA and RSL, very few LA jerseys that weren't "beckham," a few Sounders and Portland for some reason, maybe three other people in Revs gear, some NY fans, at least two people in Blanco Chicago jerseys, one dude in a Cat in the Hat striped sleeve DCU shirt, and a whole lot of people wearing "I Have Only One Soccer Shirt and This Is It" to represent various European and Mexican sides. Noticed a kid wearing a club team sweatshirt whose logo, rather than copying a European team, was swiped from the US Soccer crest. That's progress.
First game of the doubleheader was LA vs RSL. Since I flew out on American and wasn't interested in paying a checked baggage fee, I did not bring any fucks to give about that game, and hung out and people watched some more.
Any soccer games played in converted baseball stadiums, as these were, should make use of bullpen cars to bring players, officials, and team personnel to the field.
Made my way down to the front of the Cactus Pricks section for the second game, figuring, correctly, that the crowd of 8,472 would thin out a bit after Beckham went to bed. Since none of the group has a real horse in this race, the Pricks spent their time singing whatever they felt like, including the "please please win, meow meow meow" bit from Portlandia, a Madonna/Kelly Clarkson medley, and some Beatles songs. I tried to teach them Jonathan Richman's "New England," but couldn't get very far without someone by my side whose voice is much better than mine.
Popular golfer Nick Faldo came by before the game, which was nice of him, if a bit out of place, but I suppose no less goofy than Mike Piazza taking in the Italy-US game in Genoa the following week.
The section also included fans from the participating teams, including an LA fan who recognized me as the person from the Supporters' Summit who painted all those banners, which caused several of the Tuscon folks to realize I did that Chuck D thing a few years ago. Great, I've got a reputation. The LA fan was clutch when it came time to taunt the one random NY fan, picking up the correct call and response to "can you hear the red bulls sing?" after the Revs started scoring.
At halftime, I try to get the players' attention as they head back to the locker room, but they either know or have been warned I am a crazy person they're too busy signing autographs for little kids, which is cool. The game itself is great, even though it's preseason and NY is fielding Medhi Ballouchy plus a bunch of guys nobody could pick out of a police lineup. The two big preseason stars for the Revs–rookie Kelyn Rowe and French import Saër Sène–come up big once more, winning the game 2-0. One of the new Colombian guys is just barely taller than I am, which I think is funny as hell. Darius Barnes even managed to take a few throw-ins from Mexico. Weird preseason rookie, trialist, and vet lineups aside, it was exactly the kind of game I wanted to see when I made plans for the trip.
Postgame, I did get the ear of a few players en route back to the lockers. Told Kevin Alston, who'd sat out that night, that his dad told me to check up on him. Welcomed Sène to New England by giving him my brand new Midnight Riders scarf. Watched Feilhaber break the hearts of multiple teen girl fans by reminding him of his fiancee back home and told Shalrie I wasn't kidding when I told him the previous week I was coming out for a date with him that night. I also met BJ, a snowbird from Lynn, MA, who was delighted the team was coming to her in the winter for a change. Didn't, unfortunately, meet any of the rookies, but they'll be around.
Ted and I went back downtown to grab a bite and meet another fifty or so of his friends. We joined the Cactus Pricks crew, including the Galaxy fan who was in tow, at Hub, a fancy bar that served ice cream with fancy drinks. Faded and took off for the night around 1.
SUNDAY, FEBRUARY 26
Stumbled out for waffles around 10, and marveled at the idea that a breakfast establishment would still have tables available at that hour; in Boston, anywhere that serves brunch is jammed by then. We were initially going to record some sort of podcast that afternoon, but everyone was too wiped out to get any concrete plans together. Instead, Ted and I drove around town looking for horrible Mexican candy to bring back as souvenirs for my friends to spit out. Drove past the local airplane graveyard, but didn't get any photos (all the more reason to go back); got a few nice shots of downtown, including the Notel Motel. Got a tour of some of the cool older neighborhoods just outside of downtown. Met another few dozen people Ted knows. Said goodbye to Ted, had Eegee's and not as realistic as it should have been Mexican dinner, then returned to the Munkitricks' to spend the night.
MONDAY, FEBRUARY 27
The Munkitricks' business is blinds and window decor, so, as a neat little detour, I went with Judy on an errand to the workshop where many of their curtains are made. I immediately considered calling my bank and lying to them about a business loan to buy a workshop like this. Rolls and rolls of canvas, huge empty tables, lines of sewing machines–a shop like this could really crank out some great banners. After one last tamale and Sonoran style enchilada lunch, I grabbed an Eegee's for the road and headed back to Phoenix. Ran low on gas at just the right time to get stuck in a sandstorm outside of Chandler, standing there for about ten minutes as I tried to guess where they hid the fuel door latch on the car. (Answer: The door itself is a latch! Clever Germans). Got some last minute souvenirs, i.e. matching mariachi sombreros for the cats, and headed for home.
Great time, great weather, great food, great folks, great game. Couldn't ask for more out of spring training.