I'm pretty okay at baking stuff, and back in February, I came across a couple of recipes that I knew would be ridiculously popular at tailgate parties. Stolen Adapted from Nook and Pantry and Smitten Kitchen, here are Irish Cake Bombs: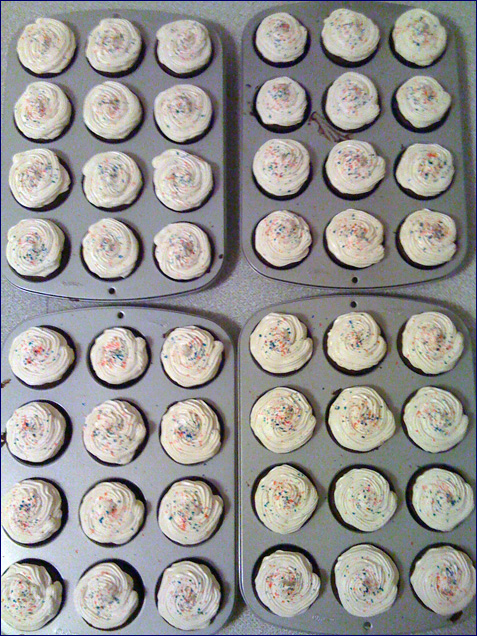 Irish Cake Bombs
2 C unbleached all purpose flour
1/2 C cocoa powder (I like Ghirardelli)
1/4 tsp salt
1 1/2 tsp baking soda
1 C granulated sugar
1/2 C light or dark brown sugar
4 oz./1/2 C unsalted softened butter
1 tbs vanilla extract
1 tbs Jameson
2 egg
1/2 C sour cream
1 12 fl. oz. bottle/1 1/2 C Guinness or stout beer
Preheat the oven to 350 degrees and butter or line with paper cups 2 12 count muffin tins.
In a large bowl briefly whisk together the flour, cocoa powder, baking soda, and salt.
In the bowl of a stand mixer with a paddle attachment or with a hand mixer, beat the butter, granulated sugar, and brown sugar until light and fluffy.
Add one egg and beat until evenly mixed and fluffy, make sure to scrape down the mixer bowl once in a while. Add the second egg, Jameson, and vanilla extract and beat again until light and fluffy.
Add the sour cream and beat in, then with the mixer running, slowly pour in the Guinness.
Sift the dry ingredients into the batter and slowly stir the batter until it is evenly mixed and there are no streaks of flour. Make sure to stop the mixer frequently to scrape down the sides and make sure to mix up any flour pockets hidden on the bottom of the bowl.
Divide 1/4 C of batter into each muffin cup, you'll get about 20 – 24 cupcakes.
Bake at 350 degrees F on the middle rack for 20 – 25 minutes. A toothpick inserted into the center of a cupcake in the middle of the pan should come out clean. Make sure to rotate the pans halfway through baking. Set on a rack to cool to room temperature before frosting.
For layer cakes: baking 25 – 30 minutes, rotate the pans around halfway, a toothpick inserted in the center of the cakes should come out clean.
Jameson Ganache
8 ounces bittersweet chocolate
1 cup heavy cream
2 tablespoons unsalted butter, room temperature
1 to 2 teaspoons Jameson
Chop chocolate, place in heatproof bowl. (Again, I like Ghirardelli here, but if you have a Trader Joe's near you, note that they have good dark chocolate for rock-bottom prices. The catch is that it's mostly in metric measurements, so you have to do some math to get the proportions right.)
In saucepan, heat cream until simmering. Pour heated cream over chocolate, stir until melted. Stir in butter, and if using, liquor, until mixture is smooth. Let the ganache cool until thick but still soft enough to be piped (the fridge will speed this along but you must stir it every 10 minutes).
Meanwhile, using a 1-inch round cookie cutter, an apple corer, or the neck of an empty bottle, cut the centers out of the cooled cupcakes. You want to go most of the way down the cupcake but not cut through the bottom, about two-thirds of the way. Put the cores in a bowl and eat those separately.
Put the ganache into a piping bag with a wide tip (a Ziploc bag with a corner clipped will work just as well) and fill the holes in each cupcake to the top. Spread thin layer of ganache to top each cake.
Bailey's Cream Cheese Frosting
1 8oz. bar of cream cheese, softened
1 4oz. stick of unsalted butter, softened
2 C confectioner's sugar
4 – 6 Tablespoons of Bailey's Irish Cream
In the bowl of a stand mixer with a paddle attachment or with a hand mixer, add the cream cheese, butter, and confectioner's sugar and beat until light and fluffy. Slowly drizzle in the Bailey's, more or less depending on how boozey you want the frosting, and beat until completely incorporated into the frosting.
If you want to get the cakes to look like the ones in the photo, use a piping bag with a wide star tip and swirl the frosting around the cake. The red and blue speckles are Wilton edible glitter; you can embellish the cakes as you see fit.
Warning, besides the obvious "I totally plagiarized these recipes" one: The alcohol in the Guinness cooks out, the Jameson almost does, but the Bailey's in the frosting does not. I don't drink, and I don't mind eating these, as do several other of my nondrinking friends. However, these are probably going to be a bit advanced for any kids you have at the party. Also, if you, as I do, have friends in recovery programs, you will want to caution them that the flavors in these may be stronger than they care to try.