Two season-ending injuries just in time for the team to make a final playoff push. What to do?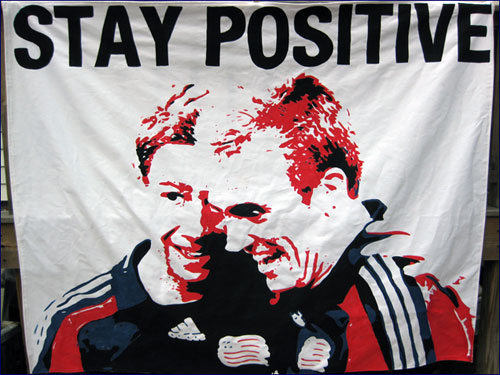 click for bigger
Keep up the good fight, that's what. I originally wanted to caption this "put a ring on it," but that got a little too footieslash with the photo. Took me a while to figure out what the caption would be; tried and threw out a bunch of different options, ranging from "WIN IT FOR THEM" to "BROS B4 HOS" to "HEY Y'ALL THESE TWO GUYS ARE HURT BAD AND IT WOULD SUCK ROYALLY IF RALSTON HAD TO RETIRE WITHOUT WINNING A LEAGUE TITLE SO EVEN THOUGH SHALRIE'S PRETTY MUCH BEEN CARRYING THE TEAM SINCE APRIL COULD YOU PLEASE FIGHT THROUGH IT AND FINALLY WIN IT THIS YEAR EVEN WITH THE INJURIES AND ALL THAT? THAT WOULD BE COOL. TIA YR PAL HOOVER"
In the end, I went with the Hold Steady reference. 'Cause it's one thing to start with a positive jam, but it's another thing to see it on through.