If you've ever been to a professional soccer, football, voetbol, fussball, futbol (take your pick) match, chances are you've seen fans sporting a variety of colorful knit scarves. Now, there's the obvious primary purpose of wearing them to keeping warm… which made a lot of sense when fans took in games from open and exposed terraces, but perhaps more importantly, scarves were a means of demonstrating individual loyalty to a particular club or country. A simple red and white bar scarf at Highbury identified you as an Arsernal supporter, a blue and white scarf in Merseyside marked you as an Everton fan… and if you happened to be wearing colors of the opposing club, and were unfortunate to be in the wrong place at the wrong time, you might otherwise find yourself a participant in a unique version of "capture the flag," usually culminating with a few sharp kicks to the legs from a pair of well-worn steel-tipped Doc Martens. But more than anything, scarves were (and remain) a convenient, pratical, and economic way to show your support. They're cheap to produce and can easily be made, and are far more distinctive than some stitched together swatches of synthetic fabric with "Dreamcast" or "Loaded" emblazoned across the front.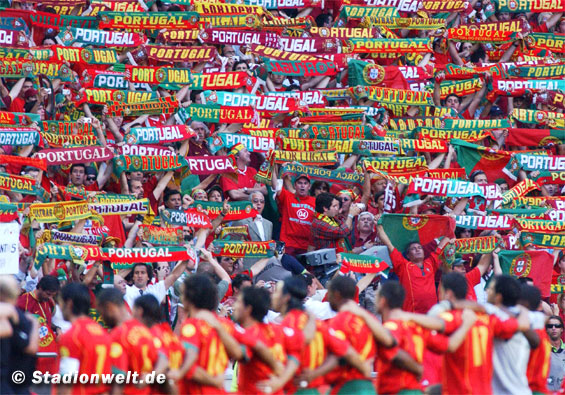 Which brings us to the U.S., because while we ordinarily fall all overselves in attempting to adopt and co-opt all things British (The Office, God Save The Queen, etc.), football scarves have not quite found their way into the Zeitgeist of U.S. soccer. For one thing, there are precious few places where such scarves can be made in the States: one being an individual in St. Louis who make these hand-kint, wool numbers that are better suited for ice fishing derbies in Michigan, the other being a couple in Massachusetts who have the machinery and technology to match the better efforts you might find in textile and manufacturing neighborhoods in Eastern Europe and the Far East.
So with a little design sense, a little creativity, a good version of Photoshop, and a decent wad of cash, you too can commission a variety of scarf that might just earn the begrudging respect of Ultras, Hooligans, and scarf nerds (read "collectors") world-wide.
To this point, I've been fortunate to come up with four distinct designs that have gone from concept to actual production: two for supporters of the New England Revolution of Major League Soccer (MLS) and two for supporters of the U.S. National Team. You can view those designs below:
Coming up with designs is relatively easy, especially with thousands of existing ideas currently available on-line, so if you find yourself suffering for inspiration… you're not looking hard enough. From there, just work up a to-scale template of the artwork. Now, the primary size for a scarf is 7″ x 54″, but of that includes the tassles at both ends, so the actual size is approx. 7″ x 50″. You'll want to set the resolution to 300 dpi, use between 2 – 4 colors in total. It's up to you whether you want the same design on the front and the back, or perhaps something different; all that really limits you is your imagination. You can use different fonts (I've previously used Impact and Haettenschweiler), design elements (sunburst, minuteman profile, flags)… you want to think bold, clean, crisp, and detailed to a point, because there is a limit to the latter thanks to limited stitch counts. You can then save the file as a high quality .jpeg, .psd, or in some cases a PDF file, which tends to be preferend by companies like Sportsscarf.com. Send them the file and $800 bucks, and you have 100 high-quality acrylic knit scarves.
The most difficult part? Well, that comes down to selecting a final design. You see, each person has their own idea of what they like and dislike, and getting people to come together… to come up with something akin to a consensus on one, final design is harder than herding cats. Someone will like one element from one scarf, but wants it as part of another (when it really doesn't fit), or most everyone will like a design… only to have one person piss and moan when you think everything's come together. Hell, I could have a killer design that I love, and know would sell… but the fucking democratic process shoots that to Hell, and things always end up in a compromise. I mean, I love the following design…
… but unless someone ponies up the money, it'll remain just a design, and even then, it'll get tweaked, re-worked, re-drawn, thrown out, resurrected… it's a ton of work.
That being said, each time an idea goes from design to reality (as is the case with the blue & red "Recuerden Corea" design) seen above, I'm like a kid on Xmas morning waiting to try out my new toys. It's a pretty awesome feeling, and one I can't get by logging into some Internet store and buying the latest Newcastle kit, which quite frankly, sucks.