I'd had a half-formed WWI poster repro in progress for a while, and then the Futbol Artist Network gang approached me about doing a piece for their first group show, to be held in conjunction with the Kicking and Screening film festival in NYC. I knew right away that the WWI poster in question would be the piece to do.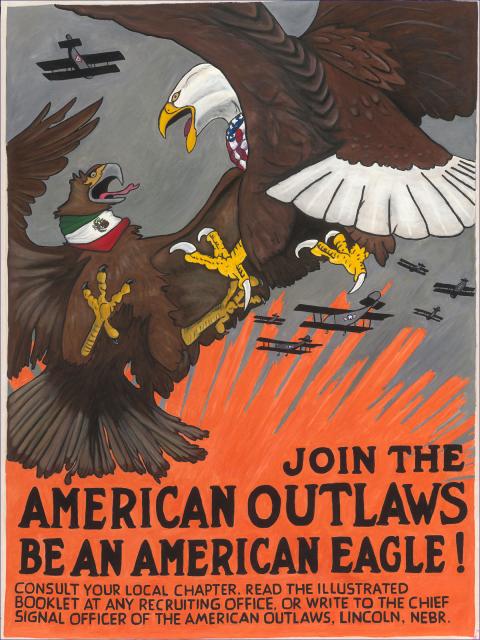 BE AN AMERICAN EAGLE, 5'x7′
The Mexican flag is period accurate to 1918, the date of the original poster. Mexico, of course, wasn't involved in WWI, having more pressing domestic engagements at the time. The aircraft roundels are modern, artistic license taken because the 1918 Army Air Service roundel isn't as distinctive as the current one.
The two new techniques I learned painting this one: Streaky lumpy paint and how to get something that's five feet wide by seven feet tall scanned to print quality. The lumpy streaky paint comes from mixing the background orange with an electric whisk. The white I use is super opaque–about the consistency of peanut butter–and often doesn't totally combine when I'm mixing colors. In this case, it left white lumps in the orange, which turned out to be streaks of smoke in the background.
The scanning, that's a little more complicated. Re-doing the picture in Illustrator, which is how I do other banners for print, wouldn't work. I'm just not that good at Illustrator, y'know? Taking a high-res photo was out, because the only camera equipment to which I have reliable access is just plain ol' point and shoots. Hunted around a bit and found the one place in Massachusetts that will scan something that big: Parrot Digigraphic. There was a bit of a sticker shock in that the banner required two passes with the scanner and thus two scanning fees, but John, the manager, kept the office open for me over a holiday weekend and wouldn't rest until he was satisfied with how the scan came out. Love that local business.
The art show and film festival runs June 18-21, and because it costs less for me to hand deliver the artwork via bus than it does to put it in an overnight mail envelope, I'll be there the night of the 18th. Of the WWI posters I've done, I think this one's the best yet.
This is for sale–the actual piece by request, but smaller prints at Futbol Artist Network.