In early April, I got a heads up on Twitter from the Revs' own Chris Tierney and his pal Taylor Russo that there might be a commission out there for me. Sure, why not. Turns out Charlie Davies' agents over at James Grant Sports wanted to give him a gift to congratulate him on that whole "not dying" thing. (This was back when we were sure he was just minutes from the World Cup roster, which, in hindsight, everyone agrees was a bit much, but hey, we're Americans, we like the sports movie endings). Holy crap, I thought, these guys are tracking me down to do this? What a bonus! Better use my whole ass on this one.

in progress
Went through about a dozen drafts before finally setting on a composite of CD celebrating his goal against Egypt in front of the fans holding up the #9 posters at the US-Costa Rica WCQ. Colors are the same shades of yellow/blue/white I used on the Chuck D piece; unfortunately, I didn't have enough fabric left over from that to paint this on the same bolt. Painted the piece, much smaller than I usually do (it was to be framed, so they didn't want it much bigger than about two feet wide), overnighted it, then…it kinda hung out with his agent for a while, as initial plans to send it to France didn't work out.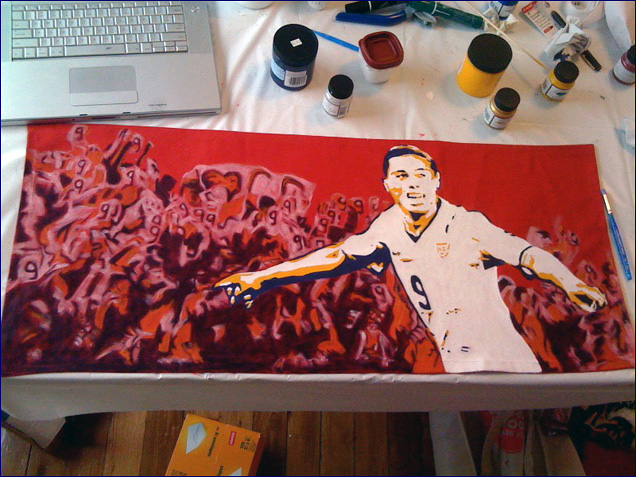 second progress shot
Turns out they'd sent it to CD's family in San Diego; he'd probably see it the next time he visited. Chafing under the non-disclosure agreement, I started leaving Twitter hints in December, asking if he was heading home when the French league took its winter break and perhaps did his parents get him anything nice for Christmas.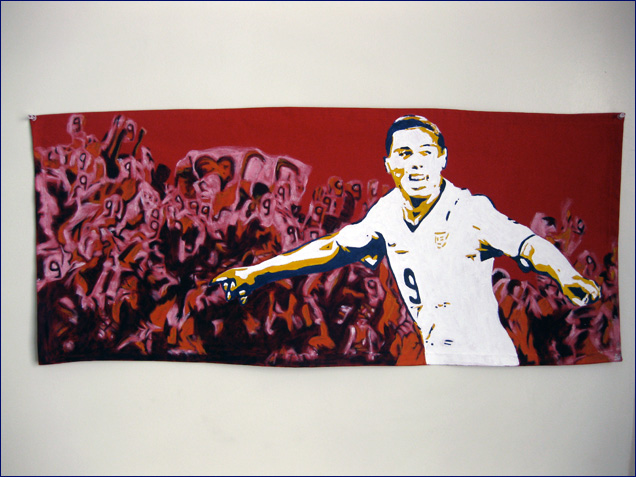 finished
Then, on Christmas Eve, I got my Christmas present. CD posted a photo and said "The plaque at the bottom of this gift reads: 'Success is not final, Failure is not fatal, It is the courage to continue that counts.'"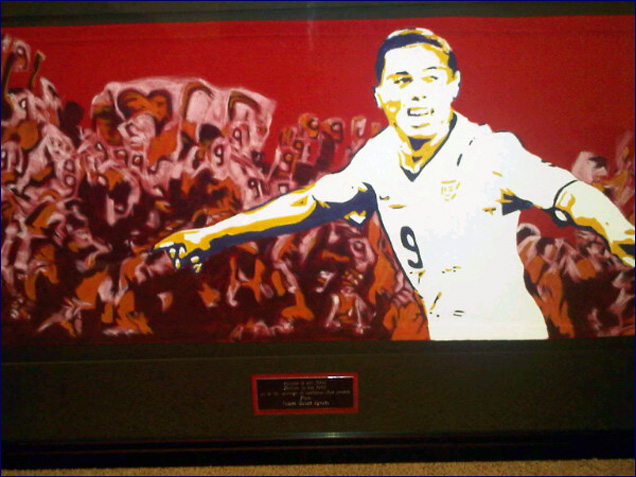 framed
Not shown, since it's framed: The title of the piece ("Make a Miracle") is written on the upper back hem. Yes, that's a line from a Public Enemy song, and I'm starting to see more people than just me tell him that every time he posts about returning to the field. All in, we're gonna win.