When the Revs announced they'd be honoring Alexi Lalas before the 8/7 game vs DC, I knew I had to do a banner, but I also knew it had to be something that was an appropriate tribute to a guy whose career was and still is largely based on being American soccer's greatest troll.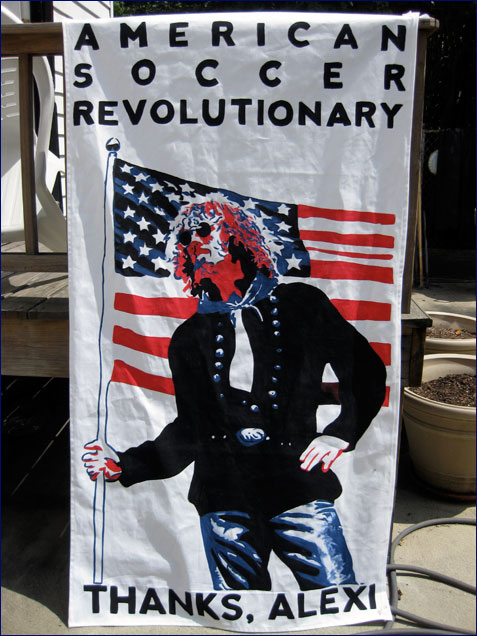 Fortunately, Lizz from the Revs office had the perfect source photo ready to go. Much as I would have liked to have used the photo of him from 2004 where he's at a tailgate with some of my pals and they're all giving the finger, the league tends to frown upon that kinda thing on camera. It was also important that we use a source photo of him from his playing days, i.e. with the hair and beard, as even today, that's a lasting image of American soccer–I'm a big fan of the cartoons on Mediotiempo and every time they depict a generic US/MLS player, it's this Tom Petty-lookin' dude, all thanks to guess who. So we ran with this, which contains a caption referencing the Revolution above an image of a guy in Civil War getup holding a 50-star flag. One buddy told me I should add a space helmet to complete the ultra-anachronism.
Given to him after the game, as far as I know. UPDATE: Yes, it was; he sent me a thank you via email.