I have very mixed feelings about this banner. Not the content, or the theme, or how it turned out, but exactly why I had to do it and when.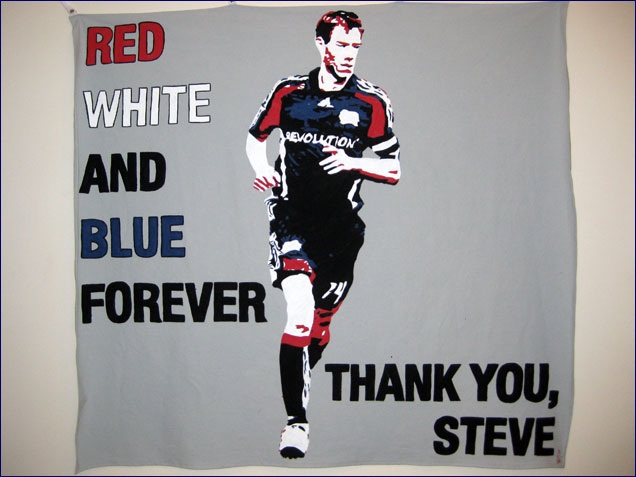 RED WHITE AND BLUE FOREVER
When Steve Ralston left the Revs at the beginning of the season to open up AC St. Louis, I was crushed, but understanding; even if it was bad news for the Revs, it was clearly good news for the guy. But then STL kinda, uh, didn't do so hot, so the Revs brought him back when I was off in South Africa. Except then he immediately got hurt, and didn't get a chance to play until Superliga, when suddenly word came down he was to retire to become Houston's assistant coach. That's okay, said the team, he'll run out for one more game before calling it a night. Except then the league totally screwed that up, saying there was some paperwork they couldn't clear in time, whatever, and it wound up that in a week the league was falling all over itself to bring in Thierry Henry, it completely blew a chance to honor one of the league's all-time greats. The Revs announced they'd correct the problem and give him a proper tribute before the Houston game, at which he'd be present as their new assistant coach.
So I made a banner for the occasion. Finding the source image was one of the gloomier tasks I've done in the name of banner construction; I don't think I need to explain why or how much it kills me he retired without an MLS Cup ring. Fabric's purpose-dyed, and there's a spot under the "k" where the salt from the dye mixture hit the fabric directly and kept the color from taking. The slogan is a play on both one of my favorite US chants and the Houston slogan of "forever orange"–whether he's in orange now, or teal and purple for the Mutiny, or green and gold for STL–based on his contributions to the Revs and the US national team, he's red, white, and blue forever.